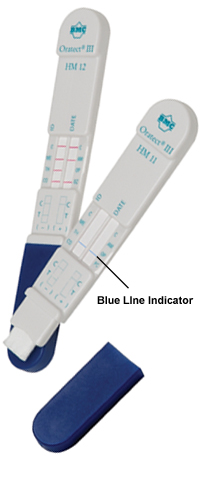 Oratect® III Oratect II
The NEW Oratect® III Oral Fluid Drug Screen Device introduces a blue line indicator for the sufficient collection of saliva. Oratect ® III is the only one-step chromatographic immunoassay device for the qualitative detection of marijuana (THC), cocaine, amphetamines, opiates, methamphetamines including MDMA (Ecstasy) and either phencyclidine or benzodiazepines in oral fluid. The presence or absence of a red line corresponding to a specific drug on the panel indicates a negative result or presumptive positive result respectively. This onsite saliva screen allows testers to obtain the rapid results they need without having the concerns of handling a urine specimen.
THE FACTS

The only one-step device available
Flow of blue lines indicate sufficient collection of saliva
Collection and testing in one integrated device
Increased drug detection levels
Two test configurations of 6 drugs
Rapid collection and testing: results in 5 minutes
User-friendly and non-invasive
Avoids gender observation
Reduces sample adulteration or contamination
Includes transport vial for confirmation testing
DRUGS-OF-ABUSE DETECTED:


Amphetamines
Benzodiazepines
Cocaine
Marijuana (THC)
Methamphetamines including MDMA (Ecstasy)
Opiates
Phencyclidine (PCP)
*Oratect® III is for forensic use only.